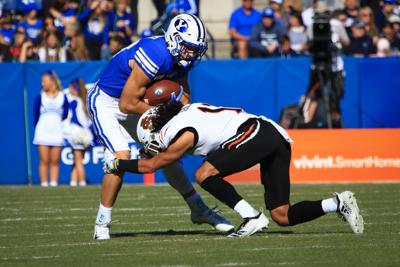 By Andrew Houghton ahoughton@journalnet.com
A mixture of old and new nonetheless led to an expected result Saturday at LaVell Edwards Stadium as Idaho State lost 42-10 to BYU.
The old? Starting quarterback Matt Struck threw yet another pick-six, his fifth in the last five games.
The new? Freshman running Malakai Rango, taking the bulk of the workload for the first time this season with starter Ty Flanagan out, ran 24 times for 142 yards and a touchdown.
The result? Never much in doubt after a second quarter in which BYU scored on three consecutive drives to take a 28-3 lead to the locker room.