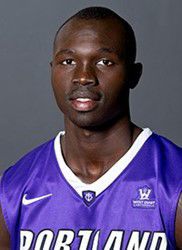 By Madison Guernsey mguernsey@journalnet.com
The Idaho State men's basketball team announced Wednesday the addition of Chier Maker for next season.
Maker is a 6-foot-7 forward from New South Wales, Australia, and has two years of eligibility remaining. He is transferring to ISU from Palm Beach State College and spent two seasons — one as a redshirt — at the University of Portland.
Last season at Palm Beach State, Maker averaged 10.4 points and 6 rebounds per game, starting 19 of 31 contests. He shot 39.5 percent from the floor and 30.7 percent from the 3-point line, attempting 166 of his 294 shots from beyond the arc.
Over his final seven games of last season, Maker averaged 21.6 ppg on 49.5 percent shooting to go along with 7.7 rebounds per night.