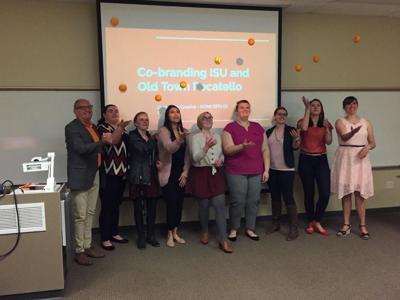 By Idaho State University
POCATELLO — Last semester, Idaho State University students in management Professor Jeff Street's honors program course "Orange You Creative" raised $15,000 toward bringing the ISU brand to Old Town Pocatello.
A collaboration of sponsors, including Citizens Community Bank, ISU Credit Union and ISU, have pledged the primary funding for adding branded signage to the historic area of the city. Signage includes 130 lamp post pennants, 15 logo neon signs for business windows and a 20-foot by 40-foot painted sign featuring the ISU Bengal head. Based on the class's cost assessment, the project will require an additional $4,000 in funds to complete the $19,000 project.
According to Street, although the course is not scheduled to continue into next semester, the former students are all part of an ad hoc group that will oversee the completion of the project. The team aims to have the ISU pennants set up by mid-August, the neon signs in place by the "Welcome Back Orange and Black" event in the fall and the painted ghost sign completed by the end of September, with the entire project culminating by October's Homecoming 2019. Street has also taken a lead on the project while students are out for the summer.